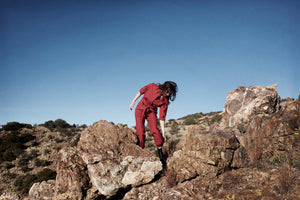 About This Special Fabric..
Our fabric is sourced from the British Millerain, the company that invented waterproof cotton and manufactures the highest quality available.  Waxed cotton/canvas develops creases and can be removed by ironing the fabric.  We love using protective materials that tell a story over time.
The British Navy pioneered the development of waxed cotton.  Applying wax to the fabric allowed flexibility for sails and comfort when worn as protective apparel (capes and hats). The waxed cotton was an instant success and was then introduced to the UK market.  Well known country attire and motorcycle brands quickly adopted the waxed cotton as breathable, protective apparel.
Machine wash on cold setting, Tumble dry cold, iron cold.  Do not fold when wet.
What they're Saying
"I love my jumpsuit. When I put it on I feel ready for a grand adventure. It is beautifully made with lots of great details. It is also very comfortable". -Puspa
Feel Inspired, Adventurous and Free…
The Waterproof fitted jumpsuit was designed at Object Hotel in collaboration with interior designer, William Nathan, for wherever the road takes you. Inspired by 20s' (1920s) female aviation pioneers.
Photo by Bisbee native, John Allen
Tag @object.hotel in a photo of your jumpsuit for 10% off your stay!
Buy Now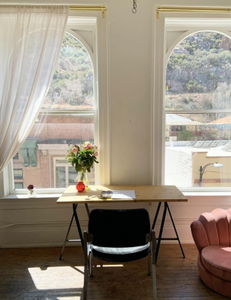 Get Creative
The Painter's Uniform was designed in collaboration with Object Hotel's art residency in the South West and makes the perfect uniform for plein air painting, life on the road, and air travel.
Photo by one of our artists, Regina Pruss @passagejewlery
Buy Now
Designed for Travel by Road, Air, or Sea
Go back in time with this aviator-inspired jumpsuit that is as versatile as it is iconic. Layer clothing underneath in cooler weather or pair with ankle boots to dress up and go out.

✓ Enjoy lightweight fabric durable enough to keep you protected from the wind, rain, and snow. 
 ✓ Crafted with a woman's figure in mind for a flattering fit.
✓ Manufactured in a family run factory in Los Angeles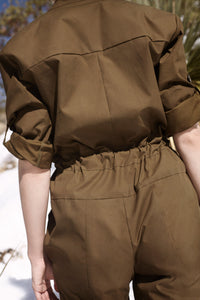 Sizing
Not sure what your measurements are?  We are happy to mail you a complimentary measuring tape.  Text our designer for any fit questions! 520-216-5805 
Small 
Crotch to ankle 26 inches
Crotch to collar 29 1/4 inches
Circumference around bust 37 inches
Medium
Crotch to ankle 27 inches
Crotch to collar 31 inches
Circumference at bust  40 inches
Large
Crotch to ankle 27 1/4 inches
Crotch to collar 32 1/2 inches
Circumference at bust 42 1/2 inches
Buy Now
The Artist's Way
Fitted painter's uniform meets 20s' aviation jumpsuit. 
✓ Luxuriate in soft but durable cotton fabric
✓  Embrace stepping into a timeless, flattering uniform.
✓ Manufactured in a family run factory in Los Angeles
Why Gesso white?  In the 19th century Union house painters adopted the white uniform often paired with a black bow tie to distinguish themselves with professionalism from non-union painters.  White also happens to be the coolest color to wear while painting out in the sun. 
Sizing
Not sure what your measurements are for the Painter's Uniform?  We are happy to mail you a complimentary measuring tape.  Text our designer for any fit questions! 520-216-5805 
Small
Crotch to ankle 26 3/4 inches
Crotch to collar 30 1/4
Circumference around bust 38 1/2 inches
Medium
Crotch to ankle 28 inches
Crotch to collar 32 1/4 inches
Circumference at bust 41.5"
Large
Crotch to ankle 29 1/4 inches
Crotch to collar 34 1/4 inches
Circumference at bust 44.5"
Buy Now